With huge expenditure being incurred on software testing, organizations are increasingly seeking outsourced testing to augment their in-house testing capabilities. Businesses worldwide are leveraging the services of dedicated testing companies to achieve consistent software quality practices across the enterprise.
We, at Flatworld Solutions, have a proven track record as a reliable outsourced testing partner for companies in the U.S. and Europe. Flatworld is a known software tester with comprehensive testing methodologies tailored to fit your business needs. We aim to produce secure and scalable testing solutions that help align IT systems to your business goals. Moreover, we conduct Peer reviews while performing testing for big projects; this helps us assess the efficiency of our staff and enables us to encourage them to achieve goals quicker and more efficiently. Investing in quality testing services from Flatworld ensures that at the end of the day, you have robust, scalable, and effective software solutions for your business.
Software Testing Services We Offer
At Flatworld, we provide our customers with a holistic range of integrated testing services in a fully managed, SLA-driven model. Flatworld's testing services can be broadly grouped into the following core offerings -
Other Services You May Be Interested In
Our Testing Process
Our testing team devises specific software test methodology and test strategies to create customized test plans that best suit your business practices and needs.
Flatworld, as a leading testing company, subscribes to an iterative approach to the testing process, beginning from the very early stages in the development cycle. Introducing iterative testing early on in the development lifecycle requires planning by developers and testers and greater collaboration between them.
Our testing process goes through the following iterative stages -
Definition of test scope and structure
Designing test models from use cases
Customer feedback and debugging
Our testing processes are constantly being upgraded with the use of templates, checklists, and guidelines. We also focus on precise documentation and update our testing methodologies so that new inputs are recorded and knowledge sharing is achieved.
Key Advantages of Testing Services
Testing has innumerable advantages. Let's look at some of the chief benefits -
It helps to identify and fix bugs before launching the software and to reduce the risk of failure significantly
Most software does not always work by itself; it needs to integrate and work in tandem with other systems – even legacy software at times. Testing helps to give the assurance that the integration won't affect the performance of the software
It's a part of the software development process; it performs a root cause analysis and helps to ensure that the software is reliable and efficient
Software testing is conducted primarily for the benefit of the end-user. By trying to imagine the scenarios that the end-user is likely to face, tests are conducted and the accuracy and efficacy of the software is noted for any discrepancies so that improvements can be made
By checking if the software conforms to predetermined technical standards, the software can be certified as good, and this helps to build confidence and cultivate a healthy business relationship
Software Testing Tools We Leverage
Our testing team continuously upgrades to best practices and cutting-edge testing tools. We have expertise in the following testing tools -
Why Outsource Software Testing Services to Flatworld?
Flatworld as a popular software testing service providing company has immense expertise in comprehensive outsourced software solutions which also cover independent software validation, and testing solutions including stakeholder testing, SAP testing, quality, and integration testing, unit testing, system testing, and user acceptance testing of software applications.
Flatworld can provide you software testing services for select software or comprehensive testing solutions for your enterprise. We seamlessly augment your existing in-house capabilities with our service offering at extremely competitive rates. Flatworld's software testing services are world-class and come with -
Ease of scalability
Dedicated testing team of software engineers, QAs, and testers
Wide domain expertise
Specialized testing methodologies
Advanced testing tools
Knowledge sharing
Continuous upgrades and refinements in testing processes
Customer Success Stories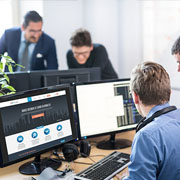 FWS Provided Website Testing Services to a Major IT Firm of Montreal
Read how a Montreal-based IT firm approached FWS to test its 130+ websites and our QA team completed the testing tasks within the specified time.
Read more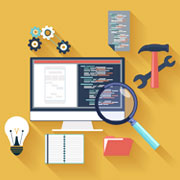 Flatworld Assisted a Scandinavian Start-up Company with Software testing of their SaaS platform
Learn how FWS' team provided competent quality testing services to fully review the SaaS-based Scandinavian customer's mobile dialogue platform.
Read more
Outsource Testing Services to Flatworld Solutions
Testimonials
We have been using Flatworld Solutions' service for the last four months for testing of our SaaS solution. They have been a professional and committed partner who have taken responsibility for the partnership.
Customer Success Manager,
Computer Consultancy Service Provider, Denmark
More Testimonials »
Are you looking for a reliable software company that provides efficient, affordable, and accurate testing services? Do you want to implement and maintain efficient software systems in your business?
Flatworld applies well-defined testing methodologies to make improvements to your software system lifecycle. Outsource your testing needs to Flatworld and minimize the cost and time spent on testing and improve the quality of delivered systems.
Whether you are looking for an independent testing activity or comprehensive testing solutions Flatworld can provide you a suite of testing solutions that are best suited for your business needs. Contact us now.