With huge expenditures being incurred on software testing, organizations are increasingly choosing offshore software testing services to augment their in-house testing capabilities. Businesses worldwide are leveraging the services of dedicated testing companies to achieve consistent software quality practices across the enterprise.
We, at Flatworld Solutions, have a proven track record as a reliable testing partner for companies in the U.S. and Europe. We are a known software testing services company with comprehensive testing methodologies tailored to fit your business needs. We aim to produce secure and scalable testing solutions that help align IT systems to your business goals. Moreover, we conduct peer reviews while performing testing for big projects; this helps us assess the efficiency of our staff and enables us to encourage them to achieve goals quicker and more efficiently. Investing in quality testing services from us ensures that at the end of the day, you have robust, scalable, and effective software solutions for your business.
Software Testing Services We Offer
We provide our customers with a holistic range of integrated testing services in a fully managed, SLA-driven model. Our testing services can be broadly grouped into the following core offerings -
Application Testing Services

Our desktop app testing services include thorough testing for clean code, security, and compatibility. We ensure that your application runs smoothly and is reliable.

We have professional web app testers who create custom test cases for web apps to uncover hidden vulnerabilities if any. They are not only good at finding bugs and errors but also offer fixes to ensure it is safe for users.

We test the compatibility of your apps across a range of mobile devices to measure loading times, rendering performance, and UI/UX performance and many more aspects to understand how your app and web app impact user experience.

Having your website tested for performance, vulnerability, and functional issues help you deliver a great experience to users across desktop and mobile. We test links, cookies, and connections to improve the delivery of quality content to users via browsers.

Enterprise Software Testing

To make sure that a software product is enterprise-ready, we thoroughly test it in multiple environments. We eliminate any bugs and ensure that the software can run seamlessly when used.

We test the functionality of SAP solutions and several SAP modules to understand their complexities and ensure its seamlessly integrated and perform as per the configuration, providing an excellent enterprise-wide user experience.

Ecommerce Software Testing

Our eCommerce testing services include the evaluation and validation of your eCommerce website, application, or any other purchasing platform. After thorough testing, we optimize it to ensure that it works perfectly.

Cloud Testing Services

We will test your cloud-based software application, and make sure that it is functional, secure, integrated, and has high-performance capability.

API Testing Services

We will not only help you with scripts that help execute API regularly - but also test, review, and validate your API for usability, functionality, and security.

There is increasing sophistication in emerging technologies and with this, cyber-attacks keep increasing. We provide effective and efficient cybersecurity testing solutions that help to prevent security and privacy breaches.

Our QAs test the system or component to be tested against the client's functional specifications to ensure that the product works without glitches and is usable and stable at all times.

If you've developed a game, we have the testing infrastructure that you've been looking for to test all game features, cosmetics, and code-level to ensure fast and reliable performance. We have more than just infrastructure that makes a company you can count on for testing your gaming software. We also have expert testers who write custom test plans and cases for your project.

We leverage the latest tools and technologies while providing the best quality usability testing services within a quick time. We have the required skills and resources to understand your requirements and customize the services as per their requirements.

Our team of testers at Flatworld Solutions has the required skills and expertise to handle all your reliability testing requirements. We leverage the latest tools and technologies while delivering the best quality services to global clients.

Our team comprises some of the most experienced software testing experts who can take care of all your recovery testing needs. We leverage the latest tools and technologies while delivering the best quality services within a quick time.

We help our clients with accurate and efficient stress testing services. We make use of the latest tools and technologies while delivering the best quality services within a quick time. We have some of the most experienced stress testers on board who can cater to all your needs.

Our team of software testers has the required skills and expertise to handle all your load testing requirements with ease. We leverage the latest tools and technologies while delivering the best quality services to global clients.

Our team at Flatworld Solutions has the required skills and expertise to provide clients with high-quality robot framework testing services. We leverage the latest tools and technologies while delivering the best quality services within a quick time.

Our team of software testers has the required skills and expertise to provide clients with error-free Selenium testing services. We leverage the latest tools and technologies while delivering the best quality services.

This involves focusing on product assurance, interoperability testing, endurance testing, reliability testing, scalability testing, and stress testing.

This is a type of testing that majorly involves investigation, discovery, and learning the software application when it is being developed.

Our crowd testing services are ideal for clients who want to receive widespread testing data in a cost-effective and timely manner.

Our mainframe testing services are ideal for companies who are still using legacy mainframes to power their day-to-day operations and help them to drive down costs while benefiting from streamlined application testing processes.

Our ETL testing or data warehouse testing process helps you verify the completeness, correctness, and accuracy of the data being transferred into the data warehouse and use the same to make intelligent and timely business decisions.

With the help of our SOA and Web testing services, you can easily complete end-to-end testing for business and security-related processes within your existing architecture with ease.

Our industry-specific testing is ideal for application testing in industries where compliance to regulations and security protocols is especially important.

Our managed testing service ensure fast and efficient testing cycles for all your applications. We test each component of your application separately in a cost-effective manner.

Our IV & V Services are ideal for software companies or developers who need quality independent verification for their applications at cost-effective rates.

We leverage this black box testing technique to test whether your existing software functionality is responding properly or not.

We test and verify automated builds and codes in isolation and report them as soon as they are added into the shared repository to ensure it's working properly.

Our QAs and testers ensure that your entire network configuration including security, performance, bandwidth, and speed provides the best performance as per the design.

If you are not sure if your system can sustain load for a duration outside of its normal operation cycle, we'll perform high-quality soak testing to put speculations to rest and bring you answers.

We test the code functionality and bug fixes done to improve the code performance. We ensure the implemented changes function predictably before it's deployed.

You can never be sure if your software codes permit scaling up or down without testing with the correct use cases. We ensure the robustness of your software by testing every aspect to ensure it scales seamlessly.

Applications are tested for functionality and compatibility with the platforms and systems existing in the organization.

We have professional GUI testers who write comprehensive tests and execute the same to check the performance of GUI. We use powerful testing suites to execute tests and create reports on our findings.

Flatworld Solutions has professional Localization testers who've accumulated years of experience in localization testing. They can evaluate the content that will be seen by users speaking foreign languages. We test every element of your digital product and its content to ensure that the end-user can accurately interpret the content without ambiguity.

Flatworld Solutions has a team of professional compliance testers who have many years of experience in validating the software and apps for domestic and offshore clients. We are well-versed in all compliance standards that are specific and generic. By benchmarking your implementation, we guarantee that your apps are fast, efficient, and safe for end-users.

We are a leading browser compatibility testing firm and have long offered customers from across the globe a comprehensive range of browser compatibility testing services. Our team of testers is highly experienced and will ensure that your website works seamlessly across all browsers.

A range of processes exist under knowledge management including storage and retrieval, collaboration, data mining, unearthing hidden information, and much more. Testing each of these facets can be time consuming and expensive. This is why it is easier for businesses to outsource testing knowledge management to get a better outcome and understand ways to enhance the functions within each segment.

Most modern codes are platform-specific so we test them to ensure it is functional when deployed in earlier platform versions and environment. This test is carefully executed as per the test plan customized for devices.

We have a private crowd spanned across the world from various geographies so your software and web apps can be tested extensively to ensure all features are functioning as expected and to acquire collective feedbacks for improvements.

We enhance the durability of code through unit testing so issues, if any, are caught earlier in the development than at later stages. This saves expensive bug hunt and fixes that consume hundreds of man-hours whereas other forms of testing slow product deployment.

We have a risk management team that evaluates the functionality of the software handling critical functions. We ensure that the process is handled without exasperating security risks involving data or human lives.

We have the required skills and expertise to handle all your installation testing services within a quick time. We leverage the latest tools and technologies while delivering the best quality installation testing services to clients around the globe.

We provide a comprehensive test environment management solutions to manage your test environments across the entire lifecycle of your product. We will ensure that your testing environment is fully set up before testing commences and that you derive the maximum value from your testing.

We have some of the most experienced and skilled volume testing experts on board who can cater to all your volume testing requirements with ease. We leverage the latest tools and technologies while delivering the best quality services within quick turnaround time.

We have the required skills and expertise to handle all your software applications' security testing needs. We leverage the latest security testing tools and technologies while delivering top-notch services to clients.

Our team at Flatworld Solutions has access to the latest tools and technologies and can help clients with accurate compatibility testing services. We make use of the latest and the best tools and software to provide clients with superior quality services.

We have a highly skilled team of testing experts who can take care of all your requirements with ease. We leverage the latest tools and technologies while delivering the best quality services within quick turnaround time.

We have the experience and the expertise to step in at any stage of the project and perform comprehensive and detailed testing and QA. No project is too small, too big, or too complex for us to handle. We will use the latest tools, techniques, and technologies to ensure that your software is as robust as it can be.

The General Data Protection Regulation aims to safeguard the personal information of the residents of the European Union. It provides controls on how information on EU residents is collected, stored, processed, used, and transferred. Non-compliance with this regulation can result in hefty fines. We provide comprehensive services to help organizations fully comply with the GDPR.

We provide comprehensive accessibility testing services that help you increase your customer base and mitigate risks. There are many positive benefits to being increasingly more digitally accessible and our accessibility testing services allow individuals and corporations to ensure that their products are equally accessible to all.

If you have a web service developed, let us run tests on APIs to determine how data will be shared and how legacy clients will interact with recent upgrades in API through regression tests. Our team uncovers potential bugs in functionality that might disrupt the experience and fix them before being released to end-users.

It can be complex to design and create test cases for acceptance test driven development as part of the agile method while simultaneously drafting requirements. Flatworld Solutions' acceptance test driven development enables the development of test cases to produce closed acceptance criteria in the preliminary stage alongside requirement drafting.

Our team at FWS has the required skills and expertise to provide clients with high-quality managed quality assurance services within a quick time. We leverage the latest testing tools and deliver the best quality services within a quick time.

We are a leading provider of Vulnerability Assessment & Penetration Testing (VAPT). Our VAP solutions include vulnerability scanning, vulnerability assessment, penetration testing, attack path mapping, multi-threat surface investigation, and firewall configuration review.

We simulate real-world hacking activities to identify all potential vulnerabilities in your IT systems and quantify the risk of these vulnerabilities. Our team also advises your IT department on the best ways to go about fixing the vulnerabilities.

With our penetration testing services, you can safely identify any vulnerabilities that could affect your computer networks, systems, websites, and applications. We will ensure that all threats are identified and rectified, so that your business continues to run smoothly and safely.

Our external network penetration tests help you assess vulnerabilities and security issues related to your network in servers, devices, hosts, and network services. We identify vulnerabilities in the network so that appropriate measures can be implemented to protect it.

With years of experience in web application penetration testing and in-depth knowledge and skillsets, you can be assured that when you outsource web application penetration testing services to Flatworld Solutions, your applications will be completely safe from cyber-attacks and threats.

Our team of expert wireless pen testers conducts varied WLAN and WAP tests to comprehensively assess the security of your wireless network. Through rigorous wireless penetration testing, we identify vulnerabilities and then create a roadmap to mitigate the potential risks of these issues.

We strengthen your defenses by discovering and repairing all your site vulnerabilities leveraging thorough security, pen testing, and assessment. A detailed report on vulnerabilities along with recommendations for improvement enables your team to verify existing security controls and meet security compliance requirements.

Our internal network test will evaluate specific internal-facing network devices, including automatic scanning and sophisticated manual testing methodologies, to assess your security posture and find vulnerabilities.

Debugging the components of an embedded system may seem like a complex affair. But we make things simple, easy, and feasible for you. Empowered with some of the best engineers and the most sophisticated lab facilities, FWS provides you error-free testing services at affordable rates.

We leverage rigorously tried-and-tested processes, specialized knowledge, and a network of experts to deliver international quality standards. Our capable software specialists understand your objectives, develop a strategy, and provide specific and detailed instructions to the crowd testers to carry out customized UATs.

More Testing Services
Our Testing Process
Our testing team devises specific software test methodology and test strategies to create customized test plans that best suit your business practices and needs.
Flatworld Solutions, as one of the leading software testing service providers, subscribes to an iterative approach to the testing process, beginning from the very early stages in the development cycle. Introducing iterative testing early on in the development lifecycle requires planning by developers and testers and greater collaboration between them.
Our testing process goes through the following iterative stages -
Definition of test scope and structure
Designing test models from use cases
Customer feedback and debugging
Our testing processes are constantly being upgraded with the use of templates, checklists, and guidelines. We also focus on precise documentation and update our testing methodologies so that new inputs are recorded, and knowledge sharing is achieved.
Enterprise-grade Software QA Services
We offer rigorous software QA services that include -
Quality Assurance Testing Services

Make sure that your software meets your needs and is optimized for usability with our end-to-end QA software testing services. Our software quality testing services help boost efficiency in enterprise operations.

Software Testing Consulting Services

We offer consulting services as a part of our comprehensive software QA services. We will analyze your current testing processes, review them, and then recommend changes that will optimize the testing process.

Manual Software Testing Services

Our software QA services also includes manual testing services, where we look through your website or app manually, and optimize it for user-friendliness.

Flatworld has a proven record of creating and executing complete test automation strategies for global customers with the use of standard tools, frameworks, and scripts.
Key Advantages of Testing Services
Testing has innumerable advantages. Let's look at some of the chief benefits -
It helps to identify and fix bugs before launching the software and to reduce the risk of failure significantly
Most software does not always work by itself; it needs to integrate and work in tandem with other systems - even legacy software at times. Testing helps to give the assurance that the integration won't affect the performance of the software.
It's a part of the software development process; it performs a root cause analysis and helps to ensure that the software is reliable and efficient.
Software testing is conducted primarily for the benefit of the end-user. By trying to imagine the scenarios that the end-user is likely to face, tests are conducted and the accuracy and efficacy of the software is noted for any discrepancies so that improvements can be made.
By checking if the software conforms to predetermined technical standards, the software can be certified as good, and this helps to build confidence and cultivate a healthy business relationship.
Software Testing Tools We Leverage
Our testing team continuously upgrades to best practices and cutting-edge testing tools. We have expertise in the following testing tools -
Why Choose Flatworld Solutions As Your Software Testing Services Company
Flatworld Solutions as a popular software testing service providing company has immense expertise in comprehensive outsourced software solutions which also cover independent software validation, and testing solutions including stakeholder testing, SAP testing, quality, and integration testing, unit testing, system testing, and user acceptance testing of software applications.
We can provide you software testing services for select software or comprehensive testing solutions for your enterprise. We seamlessly augment your existing in-house capabilities with our service offering at extremely competitive rates. Our software testing services are world-class and come with -
As an ISO 9001:2015 certified company, we strive to comply with the highest international standards of quality and information security.

We work with cutting-edge technology to create dynamic solutions for our clients. We ensure that are resources are well-trained and have expert-level experience to provide the best possible services.

We offer transparent and flexible pricing options to our clients. Our clients have the option to opt for our services on per-project or per-hour basis.

We have a global presence, with multiple offices around the world. This enables us to render our services from a location that is most convenient for the client.

Ease of scalability

Our dynamic structure of services allows our clients to scale up or scale back services in accordance with the need of the hour.
Additional Services You Can Benefit From
Our expert developers create versatile native, hybrid, and web apps. A a part of our mobile app development services, we ensure that the apps work seamlessly across multiple devices, operating systems, and platforms.
We offer a comprehensive range of software development services that are in line with the business's requirements. Our custom services help enterprises optimize their operations and workflow.
We use cutting-edge tools and technologies to offer consolidated enterprise software services, that include updating legacy systems, optimizing existing software, and streamlining communication dashboards.
Under our database consulting services, we offer optimization of enterprise databases. We consolidate the development, management, and migration of databases to boost enterprise efficiency.
Our IT staff augmentation services are widely used since we help enterprises hire expert developers on a pro-rata basis. Our developers have experience working with multiple open-source and proprietary software products.
With our comprehensive IT infrastructure management services, we consolidate integration, migration, and management to deliver unmatched solutions that are efficient and effective.
Client Success Stories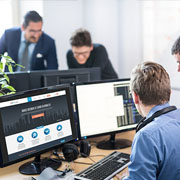 FWS Provided Website Testing Services to a Major IT Firm of Montreal
Read how a Montreal-based IT firm approached FWS to test its 130+ websites and our QA team completed the testing tasks within the specified time.
Read more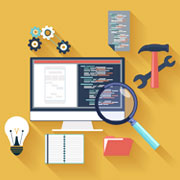 FWS Assisted a Scandinavian Start-up Company with Software testing of their SaaS platform
Learn how FWS' team provided competent quality testing services to fully review the SaaS-based Scandinavian customer's mobile dialogue platform.
Read more
Outsourced Software Testing Services for Enterprise Efficiency
Testimonials
We have been using Flatworld Solutions' service for the last four months for testing of our SaaS solution. They have been a professional and committed partner who have taken responsibility for the partnership.
Customer Success Manager, Computer Consultancy Service Provider, Denmark
More Testimonials »
Are you looking for a reliable software company that provides efficient, affordable, and accurate testing services? Do you want to implement and maintain efficient software systems in your business?
We apply well-defined testing methodologies to make improvements to your software system lifecycle. Outsource your testing needs to us and minimize the cost and time spent on testing and improve the quality of delivered systems. Additional benefits of partnering with us are -
Dedicated testing team of software engineers, QAs, and testers
Wide domain expertise
Specialized testing methodologies
Advanced testing tools
Knowledge sharing
Continuous upgrades and refinements in testing processes
Whether you are looking for an independent testing activity or comprehensive testing solutions, we can provide you a suite of testing solutions that are best suited for your business needs. Contact us now.
Get a FREE QUOTE!
Decide in 24 hours whether outsourcing will work for you.
USA
Flatworld Solutions
116 Village Blvd, Suite 200, Princeton, NJ 08540
PHILIPPINES
Aeon Towers, J.P. Laurel Avenue, Bajada, Davao 8000
---
KSS Building, Buhangin Road Cor Olive Street, Davao City 8000
PARTNER WITH US Read about Partners & Alliances programs at Flatworld Solutions! Read More
3rd Edition Middle East Banking AI and Analytics Summit Read More