AHIMA Healthcare Convention 2016
AHIMA, also known as the American Health Information Management Association is a premier association consisting of some of the world's best HIM (Health Information Management) professionals. In its current capacity, AHIMA serves 52 different state associations and works with more than 100,000 health information professionals, and is widely regarded as a thought leader and an important authority in the field of US healthcare.
Established in 1928, AHIMA is well-known throughout the healthcare field for organizing state-of-the-art programs and events for the professional development of its members, while allowing an opportunity for healthcare professionals to network with each other.
Flatworld's Experience in Healthcare
With an experience of more than 19 years, Flatworld has worked with large US-based and multinational healthcare service providers in order to bring our suite of extensive services to their doorstep. Our services include -
Our services are 100% HIPAA compliant, and are competitively priced while ensuring enhanced security for all your shared information.
Flatworld's Participation in the 2016 AHIMA Convention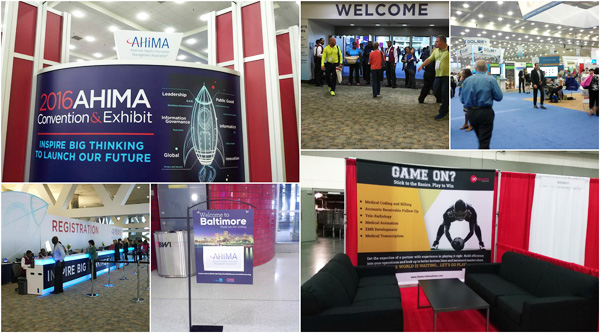 The 2016 event was held with great fanfare at Baltimore, and showcased products such as the latest clinical vocabularies, EHR software, revenue cycle management software, transcription software, etc.
In order to bring our services to even more clients and connect with other likeminded professionals in the healthcare field, Flatworld participated in the AHIMA convention to answer some of the more pressing questions clients have about outsourcing their work to Flatworld Solutions.
We also offered free consultation to everyone who had booked a prior appointment with us, while at the same time building new partnerships and enterprising relationships with different healthcare providers and clinicians.
Baltimore Convention Center
Halls C-G, plus Swing Hall
One West Pratt Street
Baltimore, MD 21201
Contact Flatworld for your Healthcare Requirements
At Flatworld, we believe in bringing the best healthcare services at cost-effective rates to our global clients. With access to high-quality infrastructure at our fingertips, and with the help of highly-experienced professionals, we can help you reach your operational goals faster!
Contact our representative directly or click on the button below to avail our services.
Mr. Vinoth Kumar C

Business Head, Healthcare


Get a FREE QUOTE!
Decide in 24 hours whether outsourcing will work for you.
USA
Flatworld Solutions
116 Village Blvd, Suite 200, Princeton, NJ 08540
PHILIPPINES
Aeon Towers, J.P. Laurel Avenue, Bajada, Davao 8000
---
KSS Building, Buhangin Road Cor Olive Street, Davao City 8000