Security, Privacy and Confidentiality Measures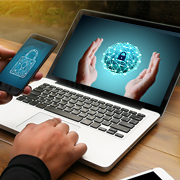 Do you want to outsource your business processes, but are security concerns stopping you from outsourcing? Outsource to Flatworld Solutions and stop worrying about the security of your data. At Flatworld Solutions, we take the security, privacy & confidentiality concerns of our customers very seriously and have taken adequate steps to ensure that the confidential information of our customers is kept secure.
The following is a list of the privacy, security and confidentiality measures that we take at Flatworld Solutions:
1. Confidentiality agreements: The employees at Flatworld sign confidentiality and non-disclosure agreements at the onset of a project. We ensure that the professionals and administrators at Flatworld who have access to sensitive information have signed the required confidentiality agreements.
2. Firewalls & Antivirus software: All the systems at Flatworld Solutions have antivirus software and firewalls. The systems are updated with virus definitions on a daily basis. We conduct technical evaluations on a routine basis to ensure that all the systems in our office meet the necessary security agreements.
3. Password protected systems: All our employees use passwords to logon to their computers. This system prevents unauthorized access to data. Every professional at Flatworld Solutions is given a unique user ID and password when accessing customer data.
4. Training on security: All the employees at Flatworld Solutions are given training on security, privacy and confidentiality.
5. Absence of external drives: We have disabled all the external drives in the systems at Flatworld Solutions.
6. Offices guarded by security personnel: All our offices are guarded by security personal on a 24x7x365 days basis.
7. Detection of security breaches: We have stringent processes to monitor and detect any breach of security.
8. Limited access to data: At Flatworld Solutions, we store our data at a data center and have installed physical access limitations to the data.
9. Encrypted data: All the data that is transferred from our customers' office to our office is encrypted to ensure that none of the data is deciphered.
10. Electronic devices are not allowed: The professionals at Flatworld are not allowed to bring laptops, PDAs or any other electronic device into our offices.
11. Paper/printed documents are not allowed: Our employees are not allowed to bring in or take out any paper, printout or written documents without permission.
12. Restricted print permissions: All the systems at Flatworld Solutions have restricted print permissions.
13. Strict administrative procedures: We have stringent administrative procedures to ensure data integrity and confidentiality
14. Security measures to prevent vandalism: All the offices of Flatworld Solutions have security measures to prevent the vandalism or theft of any information stored in our systems.
15. Random checks: We hold random check of systems and employees on a regular basis.
16. Smoke alarms & fire extinguishers: The offices of Flatworld Solutions have smoke alarm and multiple fire extinguishers.
Outsource your business processes to Flatworld Solutions and stay assured about the complete privacy, security and confidentiality of your data.