Photomontage Services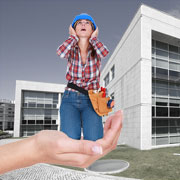 Today, photomontages are becoming increasingly regular when it comes to creating stunning images or videos to draw in viewers. This process, wherein two or more images are rearranged and overlapped using state-of-art software imparts a stunning look to the image.
At Flatworld Solutions, we can combine images, music clips, and even videos to create surreal photomontages which look realistic, and are perfect for photographers working on an art project, families looking to create a lasting memory, or businesses that need it for their marketing and presentation efforts. From simple birthday parties to corporate launches, we have covered a variety of events under our image montage services, while ensuring that the project is completed on time and within the stipulated budget.
Our Photo Montage Services
Photomontages take a lot of time and effort and can be extremely tedious if not done properly. It is not only a collage, but requires a lot of attention to detail. Our professional team of photo editors can create expert photo montages tuned to your requests. Their skills include -
Ability to combine photographs and 3D renders together for realistic and fascinating visuals
Ability to blend pictures while ensuring cohesiveness
Ability to create 3D rendering montages for a variety of architectural projects
Our services further include -
CGI Photomontage
3D Photomontage
Architectural Photomontages
CAD Images Photomontage
Montage-de-photo
Digital Photo Collage
DVD and Blu-ray Photomontage
Video Photomontage
Wedding and Reception Photomontage
Birthday Image Montage
Why Use Our Image Montage Solutions?
At FWS, our photomontage solutions have enabled thousands of clients benefit in some way or another. We use the latest image editing software while constantly training in new and upcoming image editing methods, thereby ensuring our clients receive the best possible service at all times. We can create stunning image montages by compositing 2 or more images, choosing the appropriate lighting based upon the mood you are looking for, tweaking the colors and contrast, etc.
With a streamlined process in place, we further guarantee that the complete image montage is delivered to you in a short turnaround time, and in a format of your own choosing, such as a multimedia presentation, or as a slideshow with music, etc.
Stop editing. Start clicking
Advantages of Flatworld's Photomontage Services
We at FWS have made a name for ourselves in the image editing field by providing timely, accurate, and cost-effective services to our global clients. We have worked on a variety of image montage projects, and this has allowed us to innovate and create photomontages which can look either realistic or surreal based upon your project requirements. Some of the reasons why you should choose FWS as your partner include -
High-quality final images always delivered in a resolution which suits your requirements
Cost-effective image editing services
Professional image editors with a minimum experience of 5 years
Ability to combine 3D renders with photographs in order to create compelling visuals
Sufficient experience in creating and blending 3D renderings, architectural illustrations, interior renders, photorealistic renders, etc. for architectural companies
Ability to customize our services as per your needs and working on niche projects such as animation photomontage, custom cropped photomontage, video and photo montage, etc.
Outsource Image Montage Services to Flatworld Solutions
At FWS, we just don't mix different images and renders to complete a photomontage project, but artistically composite them on each other while replacing backgrounds and adding new ones. We know the minute differences which help great image montages differentiate themselves from the mediocre ones, and our attention to detail ensures all your requirements are met successfully every single time.
Contact us right away to outsource photomontage services and other high-quality image editing services and benefit by partnering with a truly international service provider!